Thruster Control System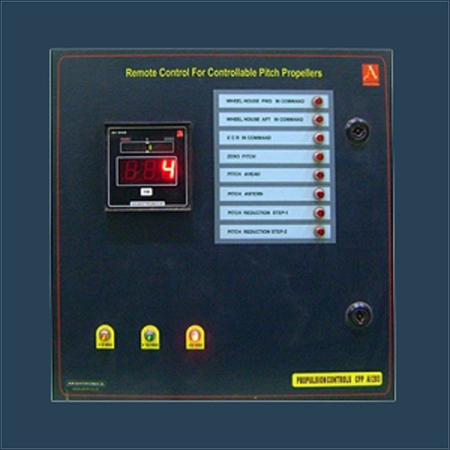 Thruster Control System
We are introducing in front of our customers the economical and simply operated gamut of Thruster Control System. Our products provide dependable services to the marine applications. These are precisely manufactured in compliance with the predetermined norms of quality. Perfectly integrated with modular approaches, our system is available with advanced specifications and capacities. Used for controlling thrust directions, these Thruster Control System is delivered at discounted pricing policies.
Features:
Rigid construction
High operational efficiency
Highly functional
Further Details:

When the vessel is fully loaded with cargo, the propulsion required is much higher than when the vessel is empty. By adjusting the blade pitch, optimum efficiency can be obtained and fuel can be saved. The pitch can be made greater when the vessel is light, and made finer when loaded without having to vary the engine rpm, and still provide maximum use of the engine's power.
Pulse Control is a simple and economical answer to overcome the limitations of Conventional ON/OFF Servo Control and Dowty Servo Valve Control. The output of pulse control will be square pulses having a fixed frequency. The pulse width can be adjusted and controlled. Therefore travel speed can be controlled by varying the pulse width as per the requirement.
To avoid mechanical jerk the pitch movement should gradually increase from zero to maximum while starting. Similarly the movement should be gradual while stopping. In the remaining part of the span, pitch movement speed can be faster as it will not cause any mechanical jerk. This can be easily achieved by Thruster Control System. In this case normal ON/OFF solenoid valves can be used, which are trouble free, less expensive and easy to maintain.
TECHNICAL SPECIFICATIONS:
PULSE CONTROL VER 3 CARD
Type / Model: - CPP URO/CPP 110906
Size: - 100mm x 150 mm
Material: - Glass epoxy double sided PCB
Operating voltage: - + 15, -15 VDC.
Power consumption: - 3.6 W
Rated current: - 300 mA
Resolution: - 0.5 degree
Working Temp: - 5 to 55 degree centigrade
31, ARENJA TOWERS, SECTOR 11, CBD Belapur, ThaneNavi Mumbai - 400614, Maharashtra, India
Phone :+918068213263
Mr PAUL RAPHEL (Director)
Mobile :918068213263
Mobile: +919769928342, +917021367332