Sewage Tank Level Indicator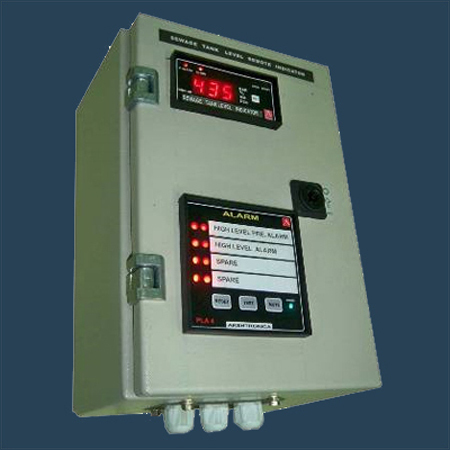 Sewage Tank Level Indicator
We are considered as the reliable manufacturer and supplier of Sewage Tank Level Indicator. Manufactured as per the international quality standards, these are widely used for continuous measurements regarding conductive liquids and remote monitoring inside non metallic and metallic vessels. Our indicators are available in many specifications and configurations to meet the requirements of marine applications. Our clients can avail collection of Sewage Tank Level Indicator at reasonable rates.
Features:
Accuracy in detection

User friendly interface

Simple calibration
Introduction
Sewage Tank Level Indicator: Akshtronica AICLP/1800 & DRO 48 - Sewage Tank Level Indicator unit is a most advanced highly reliable micro controller based device used for Continuous level measurement in conductive liquids and remote monitoring in metal or non-metal vessels. The unit is independent of the tank material (plastic, stainless steel or concrete) or the tank shape P. ALARM ALARM OPEN SHORT SET.

Application
AICLP/1800 Capacitive Level Probe in conjunction with Digital Readout DRO48 is used for continuous monitoring of conductive liquid like fresh water / sewage. Level of the liquid in contact with the capacitor probe will be monitored. SEWAGE TANK LEVEL INDICATER AKSHTRONICA-INDIA.

The capacitive level probe type AICLP/1800 with electrical output fits well into many KSHTRONICA.

Measuring tasks seen in industries like:

Two rod capacitive probe (AICLP/1800)
Digital Readout unit (DRO48).
Two rod capacitive probe (AICLP/1800): Two metal probes lead in a well defined distance are connected to a high frequent voltage. When immersed into a liquid the probe forms a capacitor in an electric circuit. These capacitive probes are used in conductive liquids for continuous level measurement.

Digital Readout unit (DRO48): used in conjunction with two rod capacitive probe receive the analog voltage signal. DRO48 basically displays the depth of the water in the tank.

DRO 48 is provided with ALARM and PREALARM. As the name suggest the PREALARM comes before ALARM.

OPEN and SHORT indications are provided in the DRO48 indicating the status sensor connection.

Level measuring ranges between 100 - 1800 mm.

For example, if we want to detect a level of 1600mm from the bottom of the tank, we can set the Alarm at 1600 mm from the bottom of the tank. In such a case we will set the PRE ALARM at (1600mm-160mm =1440mm from the bottom)

Features

Safe functioning regardless of geometry of tank
General Technique : Capacitive measurement
Tank height : 100 - 2000 mm ( special length on request )
Operating pressure : max. 10 bar
Process connection : G 1 Other type on request).
31, ARENJA TOWERS, SECTOR 11, CBD Belapur, ThaneNavi Mumbai - 400614, Maharashtra, India
Phone :+918068213263
Mr PAUL RAPHEL (Director)
Mobile :918068213263
Mobile: +919769928342, +917021367332