Programmable Logic Alarm Unit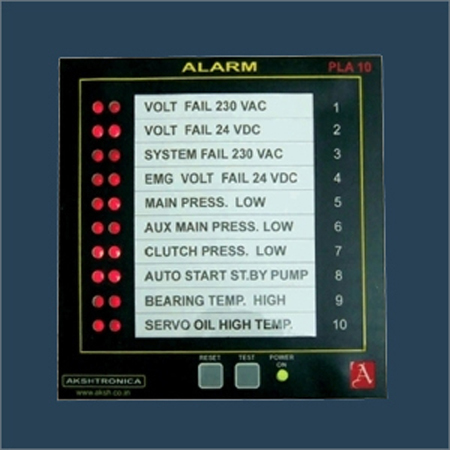 Programmable Logic Alarm Unit
Our clients can avail from us a certified range of Programmable Logic Alarm Unit. These units are categorized as Binary PLA10 that is advanced in functionality and reliable in standards. Widely applicable for marine applications, these units are suitable for detection in tank, AUX engine, cargo room, engine room, compressor, CPP and steering. Further, the offered Programmable Logic Alarm Unit indicates when find some abnormal situation.
Features:
Adjustable settings

Technically assembled
Long working life
Further Details:

An input signal origination from a potential free contact, normally open (NO) or normally closed (NC), will cause the appropriate alarm LEDs to flash and simultaneously the related output will activate. Te internal siren relay will be activated on the detection of every new alarm. The visual warning consist of a flashing two red LED for each channel and a relay that activates the horn. Each alarm can be independently delayed (1 to 120 sec.) for activation for wide selection of sensor like pressure switch, overspend, tank level. Steep Horn and accept Flash Push buttons are integrated in the unit front or through external central pushbuttons.

In accordance with rules of classification societies, all alarms signals alarm flashed until accepted. New alarms are indicated by flashing of particular signal lamp and by common audio alarm. After silencing the audio able alarm, the alarm signal can be accepted, the flashing light then changing to a steady light if the alarm signals is still being presented. Should the alarm signals is still being presented. hold the alarms signal have reset y the time acceptances the signal lamp goes out. The reset input is provided with 1 sec delay. PLA 10 & 13 series is as per above specification.

Features

10 inputs with LED indications
Supports both NO/NC input contacts
10 open collector outputs
Text label for alarm descriptions
RS485 interface for Repeater unit
RS 485 interface for event logger.
Technical Specifications

Voltage supply : 18 - 30VDC Current consumption: 0,3A max.

Contact ratings :

Alarm relay : 3A

Environment :

Ambient temp range : -20+70 oC

Humidity : 95% relative humidity at 40oC (not condensing)

Shock : 4 gms

Housing: 144x144x 50mm

Cutout : 138 x138mm.

31, ARENJA TOWERS, SECTOR 11, CBD Belapur, ThaneNavi Mumbai - 400614, Maharashtra, India
Phone :+918068213263
Mr PAUL RAPHEL (Director)
Mobile :918068213263
Mobile: +919769928342, +917021367332