Engine Temp Analyzer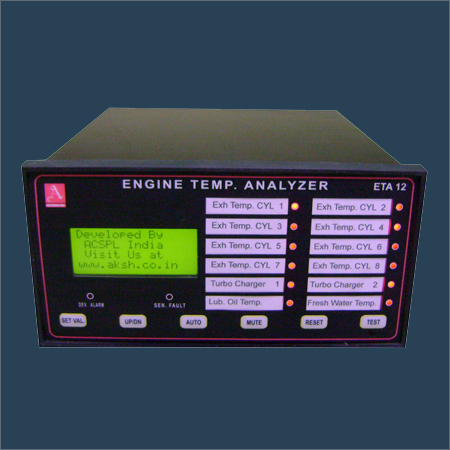 Engine Temp Analyzer
Categorized as the 12 and DV series, the range of Engine Temp Analyzer is valued as the innovative and advanced micro controller based highly programmable device. All our analyzers are used to monitor the deviations and exhaust temperatures coming from exhaust temperature of main engine. These indicators also indicate the operator about high temperature going above the set value. Further, this Engine Temp Analyzer hoots alarm for high deviation and temperature avoiding accidents & damages.
Features:
Equipped with LCD display
Displays accurate reading
Easy to read out

Further Details:

Deviation alarm activation point can be adjusted to avoid unwanted deviation alarms. Because at starting all cylinders may not take equal load and hence difference in exhaust temperature may cause deviation alarm. However, default value for high temperature alarm is set at 450 and default value for high set deviation is set at deviation value is 70, while deviation activation point is 250. Apart from exhaust cylinder temperatures, other temperatures here we call it as independent temperature --are also monitored in the same unit. Hence multiple units can be avoided. This independent temperature monitor has its own high temperature alarm but has no effect on the mean temperature monitoring.
This unit can be placed wherever appropriate, or where it is most suitable to monitor the exhaust temperatures of the cylinders. The unit is very robust and has a high degree of protection against dust.
Salient Features
1. Available with the LCD display
2. Accurate reading for a wide range from 0 to 1000 OC
3. Separate indication in LCD for each sensor reading
4. Provision for auto scrolling or manual switching of scanner menu
5. Provision for quick reference of High Temperature Set Value & Dev Set Value
6. Indication for the Mean temperature value of all group input
7. Compatible with all type of Thermocouple and PT100 sensor
8. Automatic compensation of engine room temperature
9. Indication of Engine Room Temperature in display
10.Automatic detection of Faulty sensor or cable faults
11. Individual Indication for faulty sensor channels in the display
12. Common LED indication for the sensor fault and Dev Alarm
13. Deviation and High temperature Alarm indication for each channel in LCD display
14. Individual Skip facility for all channels
15. H.T. Set, Dev. Set, DEV. Enable values are pre-settable
31, ARENJA TOWERS, SECTOR 11, CBD Belapur, ThaneNavi Mumbai - 400614, Maharashtra, India
Phone :+918068213263
Mr PAUL RAPHEL (Director)
Mobile :918068213263
Mobile: +919769928342, +917021367332