Engine Safety Panel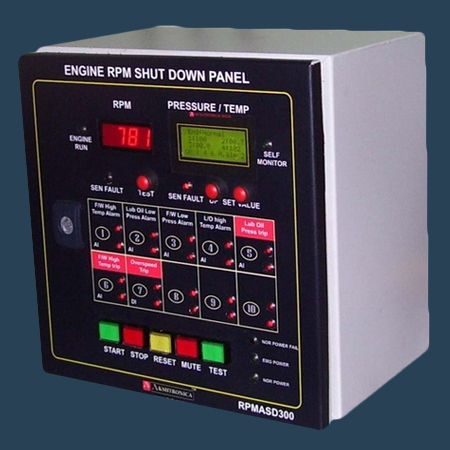 Engine Safety Panel
We are presenting in front of our valuable customers the finely integrated array of Engine Safety Panel. We firmly believe in implementing the range with appropriate algorithms supervised under our experienced technical engineers. In order to ensure quality standards, we always use finest components sourced after a keen inspection of quality factors. Used to prevent the engines, our entire range of Engine Safety Panel is delivered from our end at reasonable rates.
Features:
Long lasting performance
High operational fluency
Excellent components integration
Aieng 100 Engine Alarm And Shutdown Panel
This Panel Designed To Monitor Crucial Engine Operating Parameters Like Lub Oil Pressure & Temperature , Cooling Water Temp And Pressure, Over Speed Along With Other Important Parameters. Six Parameters Are Displayed In Lcd Display, And Rpm Displayed In Led Format. Alarm And Trip Set Point Can Be Set At Site As Recommended By The Engine Manufacturer. Three More Binbary Alarm Also Connected To This Panel.
Automatic Stopping The Generator At\ Too Low Lup Oil Pressure High Cooling Water Temp Or At Over Speed . In Case Of Automatic Shut Down, Out Put For Shut Down Signal Will Activate For 60 Sec. This Will Ensure That Engine Will Stop Completely. Reset Switch Has Got No Effect On This Timer To Ensure Complete Stop Of The Engine
Signal Suppression At Low Engine Rpm:
This Blockage Is Provided To Allow Manual Starting /stopping Of Engine With Out Nuisance Of Alarm Signals. This Is Because When Engine Is Not Running Or At Low Rpm, Lup Oil Pressure May Not Developed Above Trip Level.
Active Functional Test For Over Speed:
Test Fecility Test Over Speed Function With Out Actual Over Speed Is Provided In This Unit.
Normal And Emergency Power Supply Monitoring Alarm, Self Monitoring Alarm, Alarm Out Put Realy And Shut Down Out Put Relay, Alarm Reset, Mute And Test Facility Provided.
Each Parameters Can Be Displayed Remotely On Led Format. ( Optional)
Alarms & Trip Provided:-
1
Lub Oil Press Low (ai)
2
Lup Ol Temp High(ai)
3
Cooling W.high Temp(ai)
4
Cooling W.low Press Low(ai)
5
Lub Oil Press Trip(ai)
6
Cooling Water High Trip(ai)
7
Over Speed Trip(ai)
8
Windg Temp High(di)
9
No Voltage Alalrm(di)
10
C.w Low Level(di)
11
Normal Power Failure(di)
Parameneter Displays:-
1
Rpm Display (7 Segment Led)
2
Lub Oil Pressure Display (lcd Digital)
3
Cooling Water Temp Display (lcd Digital)
4
Lup Oil Temp Display(lcd Digital)
5
Cooling Water Pressure Display(lcd Digital)
31, ARENJA TOWERS, SECTOR 11, CBD Belapur, ThaneNavi Mumbai - 400614, Maharashtra, India
Phone :+918068213263
Mr PAUL RAPHEL (Director)
Mobile :918068213263
Mobile: +919769928342, +917021367332