Analog Alarm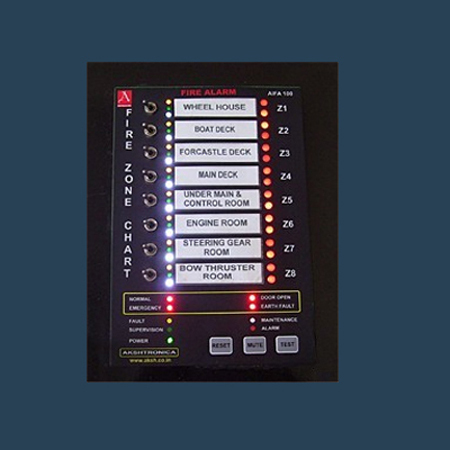 Analog Alarm
We are providing to the clients the Analog Alarm that is technically designed to facilitate the industry. We manufacture these alarms by incorporating quality assured components. All these alarms are considered as the fire alarm system that is mostly used as the safety item on board of vessels. Capable of providing early fire developing warning, our powerful collection of Analog Alarm is supplied in different specifications.
Features:
Minimized installation cost
Compact design
Fine functionality
Introduction
A Fire Alarm is one of the most important safety items on board of vessels. AkshtronicaTM AIFA 100 Fire Detection System is made up of smoke detectors, heat detectors, manual pull stations, audible warning devices and a fire alarm control with remote notification capability. It can provide early warning of a developing fire.
The AkshtronicaTM AIFA 100 offers extremely reliable fire detection with a high degree of protection against unwanted alarms. Every loop unit in the AIFA 100 has a built-in intelligence and can initiate a fire alarm all by itself.
Construction
AkshtronicaTM AIFA 100 fire alarm system consist of one centre unit with eight zone for fire and smoke supervision.
In each of the zone up to 10 heat or smoke sensors can be connected. All sensors are to be of approved type and installed as per the fire plan recommended by competent authority.
Manual call switch can also be connected in parallel with sensors.
Operations
When there is a detection of smoke or heat through the respective sensors in a particular zone, the pair of bright red LED corresponding to that zone will flash with external audio video alarm in all important station.
The Alarm (Audio and video) will be locked until the alarm is acknowledged. The acknowledgment of the alarm is done with the help of RESET button.
If during the acknowledgment of the alarm, the alarm signal is still present, the LED will become steady and the audio alarm will stop.
If during the acknowledgment of the alarm, the alarm signal is not present, the pair of LED as well as the audio alarm will go off.
When there is an alarm in a particular zone and audio/video alarm is on, MUTE button is used to put off the audio alarm. However the Flashing of LEDs continue and does not have any effect with the button.
To test the proper functioning of each of the zone of AIFA 100, TEST button is used. It basically tests for the failures of the When TEST button is pressed, all the 8 pair of red LEDs will start flashing with audio alarm, indicating the proper functioning of the same. If any zone is defective, the corresponding pair of LEDs will not blink.
Applicable in
1) Cargo
2) Offshore
3) Navy
Key Features / Benefit
1) High Flexibility
2) Interference free communication method
3) Use of Low Cost, unshielded standard cables
4) No limitation in the size of the system.
31, ARENJA TOWERS, SECTOR 11, CBD Belapur, ThaneNavi Mumbai - 400614, Maharashtra, India
Phone :+918068213263
Mr PAUL RAPHEL (Director)
Mobile :918068213263
Mobile: +919769928342, +917021367332